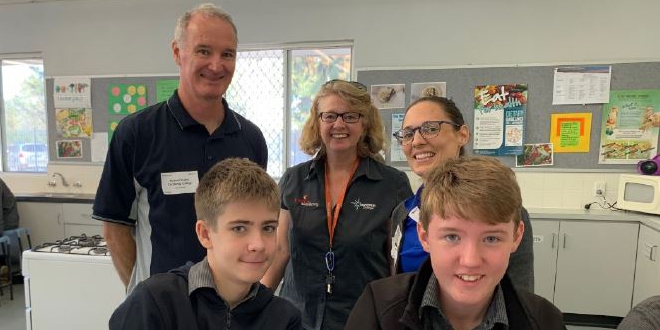 Alcoa employees have attended sessions around the Peel region to share their study and career stories in a bid to encourage local students to consider a tertiary education.
The sessions are conducted by the non-for-profit group Aspire UWA, and are used to guide students in years 11 and 12 in their subject selections.
They also demystified the university entrance ranking process, along with other university considerations such as accommodation, scholarships and alternative entry pathways.
Richard Yeates was one of the employees who shared his passion for science and wanted to support students at a critical time in their career journey.
He is a Chemical Services Manager at Alcoa's Pinjarra Alumina Refinery, and said he enjoyed his time at the sessions.
"These kids are on the cusp of a decision that will play a huge part in the rest of their lives," he said.
"Being able to talk to and help guide them in any way through making that decision is a privilege.
"It's also an opportunity to talk to them about life after uni."
The Alcoa Foundation has supported the Aspire UWA program to deliver sessions to 14 Peel region high schools since 2016.
The partnership aims to look at the region's lower than average educational achievement levels and the high rate of unemployment among youth.
UWA Equity Outreach Programs Manager Elisa McGowan said the sessions were instrumental in engaging students to think proactively about their further education.
"By opening up the discussion around building on their interests and natural talents, we hope to guide students into decisions that will positively impact their futures," she said.
Participating schools include Mandurah Baptist College, Byford Secondary College, John Tonkin College, Gilmore College, Frederick Irwin Anglican School, Foundation Christian College, Halls Head College, Pinjarra Senior High School, Harvey Senior High School, Waroona District High School, Foundation Christian College, Coodanup College and Mandurah Catholic College.
To find out more about UWA's Aspire program, visit https://study.uwa.edu.au/how-to-apply/admission-entry-pathways/equity-outreach/aspire-uwa.