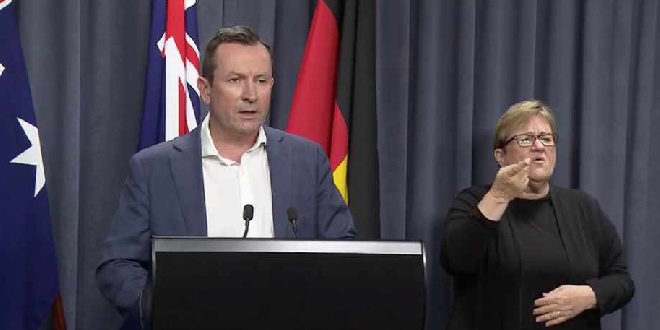 Premier Mark McGowan has announced lockdown will end at midnight tonight.
The Perth and Peel lockdown will end at midnight on Monday after there were no new local cases of COVID-19 recorded in the past 24 hours.
Interim restrictions will apply for the next four days, from midnight tonight until 12.01am on Saturday.
Masks will remain mandatory both indoors and outdoors and on public transport.
All schools and TAFES will resume from Tuesday, but staff and secondary school students will be required to wear a mask.
Primary school students, children 12 and under, people doing vigorous exercise and those exempt will not be required to wear a mask.
People can also return to work from midnight tonight unless they can work from home.
Universities are open but only for online learning.
"From tomorrow, there will be a 20-person limit in all homes, and private indoor and outdoor gatherings," Premier Mark McGowan said.
"All public venues including hospitality venues, entertainments venues, and retail outlets can re-open – except for the Casino, nightclubs, and indoor fitness venues.
"The 4 square metre capacity rule will be in place for this period only, with a limit of 20 patrons, not including staff. As in the past, the workplace, schools and public transport are exempt from the 4 square metre rule.
"For hospitality venues, like pubs, cafes and restaurants, it will be seated service only for the next four days.
"For the next four days, weddings and funerals can apply for an exemption to have 100 people. As they have during the lockdown period.
"Community sport and training can proceed with players and officials, but no spectators.
"Visits to hospital, aged care and disability care facilities are restricted to compassionate grounds only. Elective surgeries will be limited to Category 1 and urgent Category 2 procedures.
"In terms of travel, from midnight tonight, people can travel out of the Perth and Peel regions, to other parts of WA. However, anyone who has been in Perth or Peel since 17 April must wear a mask in public places, as per the requirements above."
Perth and Peel were plunged into lockdown at midnight on Friday after a man in his 50s contracted COVID-19 while quarantining at the Mercure Hotel in Perth.
He then spent five days in the community before flying home to Melbourne.
A close contact of the Melbourne man then tested positive along with a man who was at the same restaurant in Kardinya as the two positive cases.
Mr McGowan is urging anyone who was at the exposure sites at the times listed to get tested immediately.