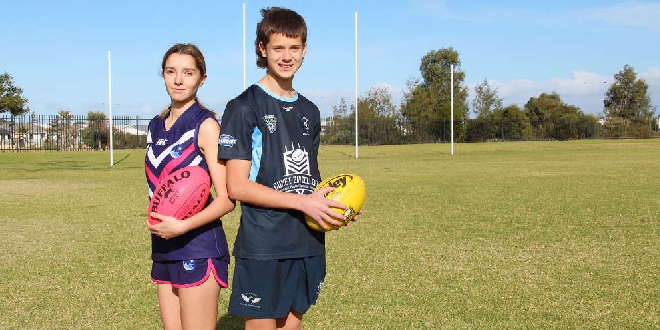 Comet Bay College Australian Football Specialist Program students Makayla Scott (15) and Weston Leo, (15) are gearing up for another exciting year. PIC: Supplied
Budding footballers from across the region are being urged to register for Comet Bay College's 2023 Australian Football Specialist Program.
The Department of Education Approved Specialist Sports Program is one of just five Australian Football coaching programs in WA, designed to teach the skills and attributes needed to play footy at the highest level.
Last year the College expanded its program to include all-girl groups, offering an elite, specialist football training program to both boys and girls.
"The growing popularity of AFLW has fuelled a greater interest for girls to not only want to play football, but to play at a highly competitive level and we are really proud to be able to offer that at Comet Bay College," Program Coordinator Steve Thomson said.
"The girls' program launched with great success this year, and we look forward to developing our rising stars further this year.
"The ongoing success of the boys' program has continued with many of our students involved in WA State Academy Programs and playing for Peel Thunder – from Talent Academy and Futures Programs, through to the Colts and Senior WAFL Programs. It demonstrates the contribution we make to the level of footballers coming out of the program."
Since it was founded in 2006, the College's program has produced a host of WAFL and State players, plus four graduates who have risen to the top – Fremantle Dockers Nathan Wilson and Jarvis Pina, Western Bulldog Brad Lynch and Gold Coast Sun's Josh Schoenfeld.
Mr Thomson said Comet Bay College's partnership with the Western Australian Football Commission ensured students received training at the highest standard with quality assurance.
"Much like our Gifted and Talented Program that is for our academically-gifted children, it's a program designed to attract the most elite footballers – boys and girls who show an aptitude to football above others their age," he said.
"We dedicate four hours to specialist coaching and study, and practice offensive and defensive skills, advanced strategies and tactics. With state-of-the-art facilities and highly-trained staff, our students are exposed to information and strategic work beyond their years."
Boys and girls enrolling in Years 7 to 11 in 2023 can apply and entry to the program is not limited to the College's local intake area.
Registrations are available online at www.cometbaycollege.wa.edu.au and close on August 10 for girls and August 16 for boys.