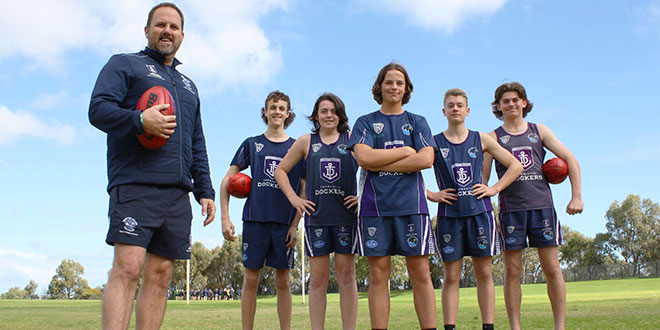 Comet Bay College Dean of Physical Education and Australian Football Specialist Program Coordinator Steve Thomson with Ryder Blomeley, 14, Willem Le Plastrier, 14, Reece Torrent, 14, Ben Agnew, 14, and Finlay Duncan, 15.
Comet Bay College is calling for budding footballers from across Rockingham, Kwinana, Mandurah, Pinjarra and beyond to apply for its 2021 Australian Football Specialist Program.
The Department of Education Approved Specialist Sports Program is one of just five elite Australian Football coaching programs in WA designed to teach the skills and attributes needed to play footy at the highest level.
Since it was founded in 2006, the College's program has produced a host of WAFL and State players, plus four graduates who have risen to the top – Fremantle Dockers Nathan Wilson and Jarvis Pina, Western Bulldog Brad Lynch and Gold Coast Sun's Josh Schoenfeld.
Program coordinator Steve Thomson said a partnership with the Western Australian Football Commission ensured students received training at the highest standard with quality assurance.
"Our ongoing success rate and reputation for quality training, procedures and expertise prompted the WA Football Commission to label us the 'benchmark' for specialist programs in WA," Mr Thomson said.
"Much like our Gifted and Talented Program that is for our academically-gifted children, it's a program designed to attract the most elite footballers – kids who show an aptitude to football above others their age.
"We consistently have very high numbers of our students involved in WA State Academy Programs and playing for Peel Thunder – from Talent Academy and Futures Programs, through to the Colts and Senior WAFL Programs – which demonstrates the level of football we generate."
Students are exposed to specialist coaching both at Comet Bay College and through formal partnerships with the Fremantle Dockers and Peel Thunder. They study and practice offensive and defensive skills, advanced strategies and tactics, and train at the College's state-of-the-art facilities.
"Our students are getting information and strategic work beyond any other kids their age. They get immersed in a football environment a lot younger than they otherwise would and they blossom a lot quicker as a result," Mr Thomson said.
Registrations are available online at www.cometbaycollege.wa.edu.au until Monday, August 24.