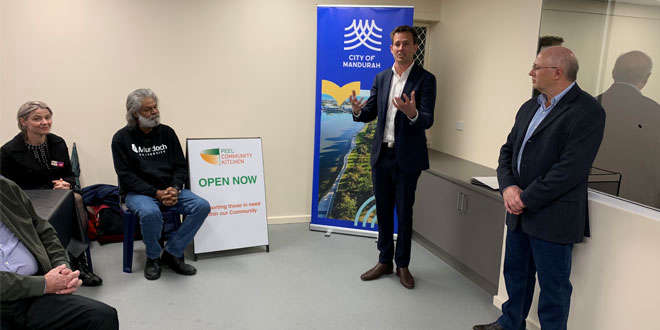 PIC CREDIT: Marion Print
People experiencing hardships in the community are now able to access meals alongside shower facilities and financial support services thanks to the recent relocation of the Peel Community Kitchen.
Having outgrown its previous facility at Sutton Street Hall, the Peel Community Kitchen is now operating from a new, custom-built kitchen on Tuart Avenue, serving more than 200 meals a day to people in need.
The kitchen, which has been a community staple in Mandurah since 2009, is now co-located with the Refresh Community Showers, operated by West Aus Crisis, and financial counselling service, Finucare.
Mayor Rhys Williams said the kitchen's new location made it easier for people experiencing tough times to access a range of services, and allowed the kitchen to grow with future demand.
"This is a move that just makes sense. For individuals and families going through a difficult time, it makes all the difference that they are able to come to one, central facility to get the immediate help and support they need," he said.
"Being able to have meal – breakfast, lunch or dinner – and a refresh in one location is convenient and beneficial, and has helped to lift the level of services in our community.
"The kitchen's new home allows this vital service to grow with demand. It's a fully equipped commercial kitchen, meaning the volunteers can provide different fresh meal options daily, more choices and improved services.
"In its 10-plus years of operation, the Peel Community Kitchen has fed thousands of people and provided a welcoming and helpful environment, and for that we are so grateful.
"I'd like to thank all those who have helped to make this move a reality, from the kitchen's board members and volunteers, our local support services who do an amazing job, the Homelessness and Street Presence Network, the State Government, and our dedicated City staff who have worked for years for this outcome.
"This forms another part of the City of Mandurah's ongoing commitment to ensuring people experiencing hardships, homelessness and tough times have access to the services they need."
Peel Community Kitchen is a non-profit organisation with close to 35 volunteers. Operating from Monday to Friday, the kitchen serves anywhere from 50-80 people per day.
The kitchen is ideally located in close proximity to central Mandurah, in a broader precinct that includes access to the Mandurah Train Station,
bus and retail nodes and community facilities such as the Mandurah Library and Lottery House.
The successful relocation was celebrated today by the City of Mandurah, Peel Community Kitchen, and the wider community.
The renovations for the new kitchen were carried out between November 2020 – July 2021, with the City of Mandurah committing the project budget of $250,000 (Restart Mandurah Community COVID Relief Fund).
In partnership with the community services sector, the City also recently launched the Mandurah Homelessness and Street Present Strategy (2021-2023), which aims to break the cycle of homelessness in the community.