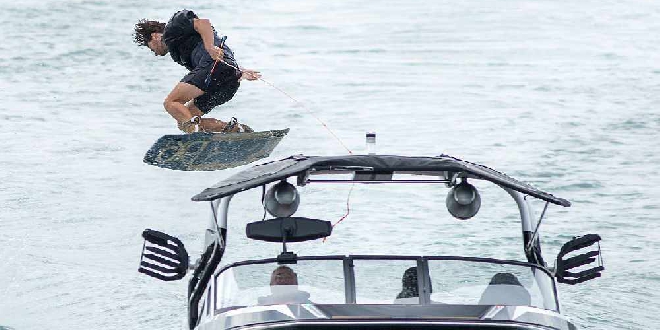 Riley Middleton from Secret Harbour took out the Pro Wakeboard Tournament. PIC: Paul Smythe - Hotdiggitydog Photography
A young wakeboarder from Secret Harbour has taken home $3000 in prize money after winning a Pro Wakeboard Tournament at the Mandurah Mazda Action Sports Games at the weekend.
In his debut event, Riley Middleton competed against some of Australia's best wakeboarders including Callan Starr (Ascot, WA), Jesse Mason (Tas) Jack Bennet (Thirlmere, NSW), Hamish O'Callaghan (Tas) and Ben Heatly (Rossmoyne, WA).
Despite the early morning grey skies and heavy rain the water conditions at Mandjar Bay improved for the men's final.
Middleton put on a world class act scoring 80.00 points edging out seasoned competitor Dr. Callan Starr who scored 71.11.
Middleton said he was really happy with his performance.
"Much love to Mandurah for allowing us to wakeboard down the estuary, and providing a space for everyone to watch and compete," he said.
"I want to thank everyone who made the event possible, super grateful to ride alongside good mates and great wakeboarders. Can't wait for it to all kick off again next year."
The women's final saw seasoned professionals Mackenzie McCarthy (Gold Coast, Qld), Abby Guinan (Tas), Charlotte Mateljan (Byford, WA) Lauren Schwarz (SA), Sienna Curran (NSW) and Stella Kennedy (Mandurah, WA) compete for a share in $6000 worth of prize money.

Six time world champion McCarthy took the win in this year's Pro Women Wakeboard division.
Her performance was outstanding with her final two runs giving her a total score of 76.67 and beating Abby Guinan's score of 66.67.

Wakeboard Western Australia President Alan Mateljan said they weren't sure if the weekend was going to go ahead.
"Weather conditions at first looked a little challenging thanks to cyclone Seroja however what was in our favour was the light winds so we called the event on and the riders threw down some awesome tricks especially in the finals when the rain eased and the water conditions cleaned up," he said.
"We are very excited to be part of bringing a wakeboarding event of this standard to Mandurah, Western Australia."