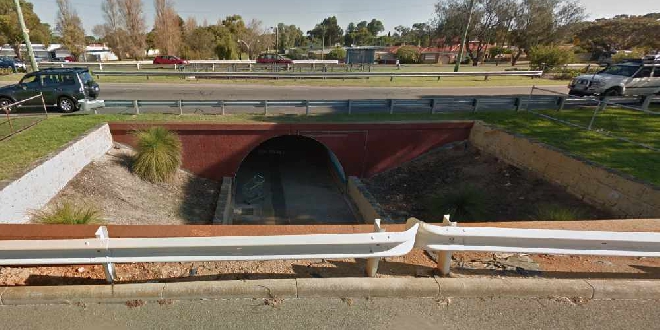 Read Street underpass. PIC: Google Maps
Police are looking for three boys who assaulted and tried to rob a teenage boy in a Rockingham underpass.
The victim was walking towards the shopping centre on Council Avenue when he was stopped by three boys riding push bikes in the underpass beneath Read Street around 3.30pm on September 25.
The trio demanded property from the teenage boy before assaulting him.
He managed to break free and run towards the shopping centre.
The boy received minor injuries.
The three youth are described as fair skinned, riding mountain bikes, aged between 12 – 16 years, wearing dark coloured tops.
Rockingham Detectives would like to speak to anyone who may have witnessed the assault or has mobile footage of the incident.
Anyone with information is asked to contact Crime Stoppers on 1800 333 000 or report online at www.crimestopperswa.com.au