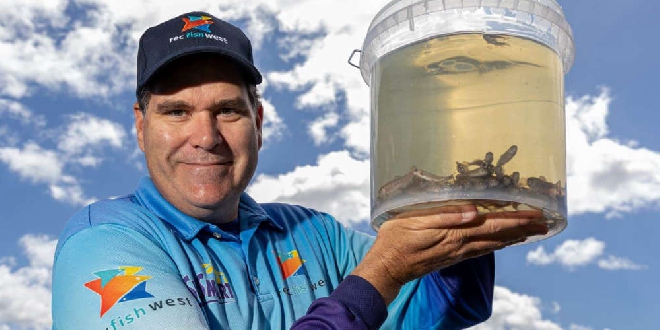 Recfishwest CEO Dr Andrew Rowland with rainbow trout fingerlings at last year's Troutfest. PIC: Recfishwest
Thousands of rainbow and brown trout have been released into the Drakesbrook Weir today during the annual Troutfest celebration.
Supported by the Shire of Waroona and organised by Recfishwest, Troutfest is an annual celebration of freshwater fishing, which brings families up close and personal with the trout to help release the popular fish and enjoy the day's family friendly activities.
A selection of the biggest and fastest growing fingerlings is set aside each year for release the following season after eight to 12 months of growth in the Pemberton Hatchery, where they reach the yearling size of 200-300mm.
These will be on show during Troutfest, alongside several hundred jumbo size fish and thousands of the traditional smaller fry.
Around 9,500 anglers are licensed for freshwater fishing, and trout fishing getaways to the Peel, South-West and the Great Southern provide a combined annual stimulus to these regional economies of more than $20 million.
Trout must be 300 millimetres or larger to be a legal catch for fishers, with a combined daily bag limit of four.
All other freshwater finfish species caught (except for redfin perch) are also counted in the combined limit.
Children under 16 years of age do not require a licence to go freshwater fishing.
"The McGowan Government's trout stocking program is vital to the success of freshwater fishing every year, with 75 dam and river locations benefiting from this year's planned release of up to 450,000 rainbow and brown trout fingerlings, yearlings and ex-brood stock jumbo trout," Fisheries Minister Don Punch said.
"Trout fishing plays an important role in supporting regional tourism and jobs, and having legal size trout in the right place at the right time ensures the important economic contribution made by our freshwater fishers continues into the future."