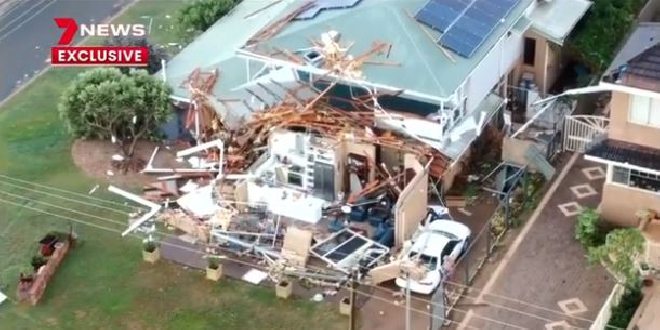 Kalbarri bore the brunt of Tropical Cyclone Seroja. PIC: 7NEWS
Tropical Cyclone Seroja has left a path of destruction across Western Australia's mid-west coast with emergency services assessing the damage this morning.
Seroja was at a category three when it hit the coastal town of Kalbarri around 7pm on Sunday.
Winds gusts of up to 170km/h ripped roofs from homes, uprooted trees and sent fences flying.
Seroja then made its way to Geraldton before weakening to a category two system as it moved further inland.
The ex-cyclone has now been downgraded to a tropical low but is still likely to continue to bring damaging winds and heavy rain.
Emergency services have received more than 175 calls for help so far, with most of those coming from Kalbarri.
Around 31,500 customers are currently without power.
At least one person has died, roofs have been ripped off homes and trees and powerlines brought down as tropical #CycloneSeroja smashed into Western Australia overnight. pic.twitter.com/l9KY8TRU7f

— Sunrise (@sunriseon7) April 11, 2021
#CycloneSeroja: homes & units before & after the cyclone hit #Kalbarri, 170kmh gusts causing major damage. #7NEWS pic.twitter.com/WYFL2QOlwB

— Paul Kadak (@PaulKadak) April 12, 2021
We're expecting reports of damage to increase as the day unfolds, and will continue reassessing and prioritising restoration work as it becomes safe to so. Helicopter patrols will commence once conditions are safe which will help identify and prioritise fault areas.

— Western Power (@westernpowerwa) April 12, 2021