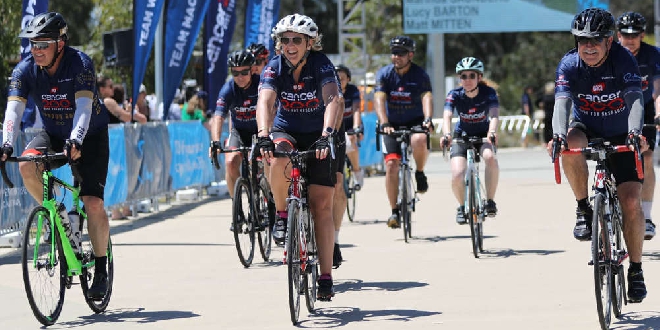 PIC: MACA Cancer 200/Facebook
Australia's biggest charity bike ride will be coming to Mandurah on Saturday, October 16.
A record 1537 riders will head off from Optus Stadium for the 10th MACA Cancer 200 Ride for Research.
Cyclists will ride to Mandurah and stay overnight in tents at Hall Park before riding back to Perth on Sunday, October 17.
The 200km event will support cancer research at Perth's Harry Perkins Institute of Medical Research.
So far, the 2021 event has already raised $6.7 million.
Director of the Perkins Institute Professor Peter Leedman AO said vital new cancer research will go ahead because of the funds raised in this year's ride.
"Cancer research, drug development and clinical trials of new treatments are essential particularly as 60 per cent of cancers don't respond fully to current methods," Professor Leedman said.
"The funds raised by more than 1500 riders will help deliver cancer breakthroughs.
"For patients with hard-to-treat cancers such as triple negative breast cancer, drug resistant melanoma, pancreatic and liver cancers or brain tumours new research discoveries are the only way to make cancer a non-lethal disease."
In the ten years of the ride more than $40m has been raised for cancer research.
Title sponsor MACA has raised more than $18m over the history of the ride and has the largest team of riders with 350 riders on the road this year.
"Our employees, our community of friends and family members, have all been personally impacted by cancer and it is a continued honour to support the Harry Perkins Institute as they advance medical research in order to better the lives of cancer patients," MACA Executive Director Geoff Baker said.
Drivers are being urged to be aware of riders on the road this weekend.
To make a donation click here.