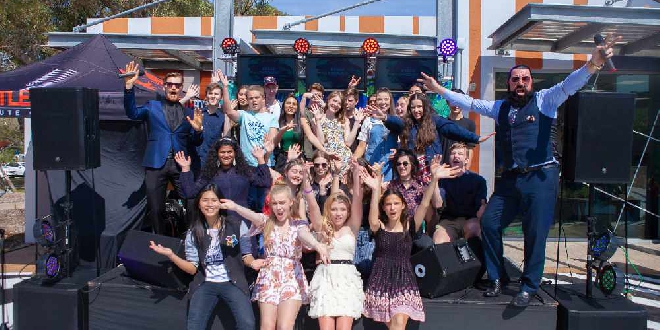 The Act-Belong-Commit Breakthrough Music Competition offers young people a chance to further their careers in the music industry. PIC: City of Rockingham
Young musicians in the Rockingham region are being encouraged to sign up for the annual Act-Belong-Commit Breakthrough Music Competition.
The competition offers young people the chance to showcase their talents and to win from a pool of $10,000 worth of cash and prizes.
Residents aged 12 to 24 are eligible to compete and can use it as a way to get their foot in the door of the music industry.
The heats are set to be hosted at shopping centres across Rockingham throughout October.
City of Rockingham Mayor Barry Sammels said the competition allows young people the chance to share their work and perform to larger crowds.
"Since Breakthrough began in 2012 the competition has given many musicians the ability to take their first steps into the professional music industry," Mayor Sammels said.
"Musicians from a variety of musical backgrounds have seized the opportunity to turn their passion into greater success and I encourage any young people who are keen to forge a career in the musical industry to participate in the competition."
Following the heats, a grand final will be held at the Rockingham Foreshore on Sunday 27 October from 11.30am until 2pm, and will be a part of the City's official Foreshore Celebration event.
For more information or to apply, call 9529 2021 or visit www.take8.com.au/breakthrough.
Live performances for heats will take place at the following venues:
Heat 1: Sunday 6 October - Secret Harbour Square from 11am to 2pm
Heat 2: Sunday 13 October - Stockland Baldivis from 11am to 2pm
Heat 3: Sunday 20 October - Rockingham Centre from 11am to 2pm